By: Cass Jordan
SAN DIEGO-- Although just two months into the calendar year, RUSH Field Hockey is wasting no time accomplishing a New Year's goal or two.
Recently, a record-setting four RUSH Field Hockey players were selected to represent team USA on the Under-19 and Under-17 Junior National Teams. Selections concluded after a lengthy USA pipeline process that began last May.
Kathryn Peterson, Megan Rodgers, Meghan Schneider, and Brynn Zorilla—all RUSH Elite Performance Group teammates--will suit up alongside each other once again, this time wearing red, white and blue.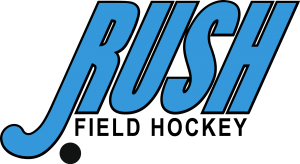 Prior to this year and dating back to 2003, five other RUSH Field Hockey members have represented team USA. These RUSH Field Hockey alums have competed in China, The Netherlands, Chile, Uruguay, Canada, Australia and more while carrying the RUSH Field Hockey name along with them.
"Without question this announcement is a win for everyone involved within the RUSH Field Hockey organization," said RUSH Field Hockey Program Director Brian Schledorn. "We are honored RUSH athletes continue to be recognized by USA Field Hockey among the best our country has to offer."
To break it down further: At the state level, the four longtime RUSH teammates are the only Californians selected to any women's national team. Even from a regional standpoint, the players are still time zones away from a majority of their teammates.
Rodgers and Schneider, both selected to the Under-19 team are the only players on the 27-person roster from west of Illinois. As for Peterson and Zorilla, their next closest Under-17 teammate lives 2,000+ miles away in Ohio.
For Rodgers—a MAX Field Hockey West/Midwest Region Player of the Year with a California single-season record 81 goals, this marks her second year selected to a USA national team. The Cal Berkeley-bound senior competed on the Under-17 team in 2016 alongside Zorilla. This year she was able to make the often difficult jump to the Under-19 team.
Zorilla also returns to the national scene for the second straight year now a veteran leader on the Under-17 team. The Cal Berkeley-bound junior and three time All-CIF honoree competed in the midfield for team USA last year during a series of European test matches in Germany.
The common thread then: Rodgers and Zorilla were the only California players who made the cut.
New to the national team roster yet very familiar with success, Schneider and Peterson bring the RUSH Field Hockey national team total to nine.
Schneider will make her USA team debut following a high school season in which she set the all-time section record with 77 assists-- many of those assists completed by a Rodgers or Peterson goal. Later this year, Schneider will join the University of Louisville Field Hockey program in the Atlantic Coast Conference. Her younger sister and fellow RUSH EPG teammate Katie Schneider, will also join the Louisville field hockey team and play alongside her in 2019.
Making a statement this last year, Peterson notched accomplishments in record books and on rosters. Following a 27-goal and CIF championship season, Peterson committed to play for the University of Michigan in the Big Ten Conference only to follow that with selection to the Under-17 team. Adding to her success in 2016, Peterson broke into her high school track and field record book with a top five finish for the 1600-meter with a time of 5:27:52.
USA Field Hockey will announce travel tour dates and competitions at a later date.
For questions or comments contact RUSH Field Hockey on Facebook