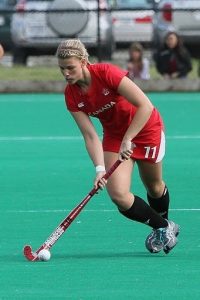 SAN DIEGO -- RUSH Field Hockey has announced Crystal Poland has been added as an assistant coach to the program beginning this month. She will coach her first tournament at Cal Cup and will also be playing for RUSH'd in the Supers Division.
"I could not be more excited to get involved with the RUSH Field Hockey club," said Poland, who coached for Wargles Field Hockey club and San Pasqual High School this last season. "I'm thrilled to continue sharing with young players my passion and experiences at the collegiate and international level."
A Canada native, Poland was a four-year starter at Northeastern University from 2009-2012, where she received a number of accolades. She coached at Northeastern for the 2013 season. In the record books as the Huskies' all-time leading scorer (179 career points, 78 career goals), Poland twice finished in the top-5 of the NCAA for scoring, garnering first-team All-American recognition twice as well. With stats like that, she was also a three time Longstreth/NFHCA All-Northeast Region First Team honoree. Beginning her first season as the 2009 CAA Rookie of the Year, Poland book-ended her career as the 2012 Colonial Athletic Association Player of the Year. All in doing so, she led Northeastern to two CAA Tournament finals and two NCAA appearances. Not to be overshadowed, Poland has paved a history of success on the hockey pitch back home as well.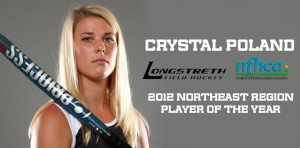 In Canada, Poland earned six caps playing for the Canadian Sr. Women's National team from 2008-2010. A cap represents each appearance a player has in an international game at the senior level. On her way up, she played for British Columbia's Under-19 provincial team in 2008, winning gold at the Under-19 National Championship and silver at the Sr. National Championship, in which she took home MVP tournament honors at both.
Poland earned a B.S. in Marketing and B.A. in Communications. She lives in Poway with her fiance Joey and their two cats, Lumen and Chewy.
Questions, Comments: molly@rushfieldhockey.org