ORLANDO, Fla. – RUSH under-19 brings home the gold to San Diego after a battle of west and east coast field hockey. But a championship win is just a touch on their overall tournament success.
The group of girls selected from throughout San Diego County traveled to Disney World to compete in the 2015 annual Disney Field Hockey Showcase held in Orlando, Florida.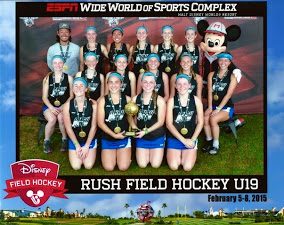 RUSH under-19 won the Pocahontas bracket after going undefeated in all eight of their games inside the ESPN World Wide sports facility. RUSH shut out all but one of their nationally top ranking opponents. The girls averaged nearly three goals a game against their east coast match-ups and only let up one goal throughout the entire tournament.
In the Pocahontas championship final RUSH defeated Key State (3-1) for their eighth hockey game in four days.  The girls were awarded gold medals and presented a championship trophy in front of family and spectators.
The final showdown started off with a RUSH goal supported with quick passing at the top or the circle and a shot blasted to the far sideboard. In a back and forth battle, Key State responded to tie the game at (1-1) after a scramble in front of the net. Unfazed by the first goal scored against them of the tournament, RUSH added another goal and the eventual game winner off a corner just before the half.  RUSH sealed their championship win over the Pennsylvania based club with a third and final goal with 15 minutes to go.
RUSH advanced to the championship after a semifinal win earlier that day against the Saints field hockey team. RUSH captured the (3-0) win with corner execution and quick passing in front of the net. According to spectators, the entire Saints field hockey team is committed to college field hockey programs.
At the start of the tournament RUSH defeated the Carolina All-Stars (1-0) with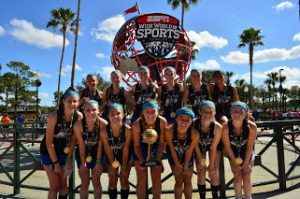 the lone goal and game winner scored with only minutes to go. Later in the day RUSH defeated Windy City Fire (5-0) with five different contributors to go undefeated in the opening round of the tournament.
The next day RUSH defeated Surf & Sand (3-0) and also blanked BCFHC ST Storms (1-0) for their fourth shutout in as many games. The day before championship Sunday started started off with a rematch win against Windy City Fire (1-0) and a (6-0) win against Edge Field Hockey thanks to another round of multiple goal scorers, assists and capitalization on corner play opportunities.
For more information on RUSH field hockey players click here and or contact coaches Brian Schledorn and Molly Cassidy.
2015 U-19 Disney Showcase Roster:
Tatiana Arias
Chelsea Bigelow
Heather Brennan
Farah Farjood
Sara Janetzky
Gabi Jimenez
Kyra Kent
Hannah Loos
Jessica Loos
Kenzie Peterson
Nina Randolph
Megan Rodgers
Meghan Schneider
Daniella Schoenfeld
Shannon Yogerst