MOORPARK, Calif. -- The RUSH under-19 team capped off the 2015 California Cup tournament with silver medals in a championship style showdown.
RUSH under-19 took home second place honors against Short Corners (Serra H.S) who captured the W in penalty strokes.
For the second year in a row, RUSH under-19 faced Short Corners in the championship finale. Slightly bittersweet, nearly half of the Short Corners are current RUSH Training members and a majority are RUSH Elite Performance Group members. Four of their five penalty strikers are RUSH training members as well.
RUSH notched three penalty strokes to Short Corners' four after the teams tied (1-1) in regulation. In the highly intense game, RUSH under-19 scored their lone goal against the Short Corners' defense who had not given up a goal all tournament. Short Corners responded with a goal of their own after a scramble in front of the net.
Earlier that Memorial Day, RUSH under-19 defeated two teams en route to the final outscoring their opponents five goals to one. The tournament total: 26 goals scored and just five against.
Last year, the outcome between the two teams was reversed. In 2014, RUSH defeated Short Corners in penalty strokes for the under-19 Cal Cup crown.
For more information on earlier games 'Like' RUSH Field Hockey on Facebook
--------------------------------------------------------------------------------------------------------------------------------------------------------------------
The RUSH'd Supers team finished in 7th place at the 2015 California Cup tournament when their fate was also decided in penalty strokes.
Playing against a veteran Olympic Club field hockey team, a young RUSH'd responded to an early first half goal deficit. With just minutes left in the game, a great build up opportunity found RUSH'd's Gabi Jimenez, who grabbed a rebound off the goalkeeper to notch the equalizer and her first goal of the tournament.
With a (1-1) score in regulation,  RUSH'd and OCFH selected their five penalty strokers and each put their own Big Ten Conference goalkeeper alums in the cage.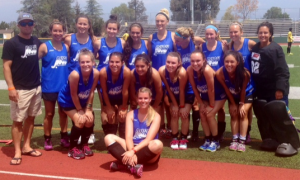 On the offense, RUSH'd's Crystal Poland, scored the lone penalty stroke with a zinger through the goalkeeper's legs. The OCFH goalkeeper and Indiana alum, batted away RUSH'd's four other attempts.
On the defense, RUSH'd and Michigan State goalkeeper alum Molly Cassidy, missed the first penalty stroke low and to her right side. She responded with three sticks saves as an additional shot soared high and wide to tie the round at one a piece.
In sudden death, Cassidy dove to make a fourth stick save putting Poland back on the p-spot to win it. The Northeastern alum flung her shot mid-height past the goalkeeper's stick side to seal the team's first victory of the tournament.
In an effort to develop RUSH players and alums at the highest level possible, RUSH prides themselves on entering young talent in the Supers Division. RUSH'd was made up of: (3) high school juniors (5) high school seniors (4) Cal Berkeley freshmen. (2) Cornell University freshmen. (1) UC Davis freshmen. (2) college alums.