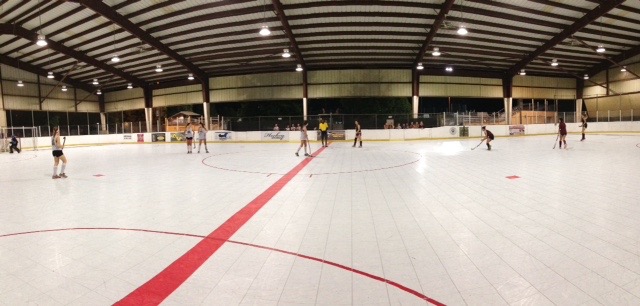 Event Details
January 14, 2017

to

March 4, 2017

All Sessions:

$650

Session Dates:

January 14, 2017
January 21, 2017
January 28, 2017
February 11, 2017
February 18, 2017
February 25, 2017
March 4, 2017
---
Event Description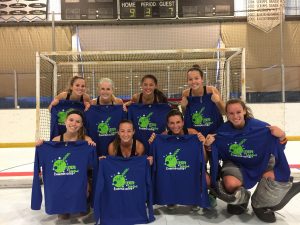 Division 1 – Top Champions – Ninjas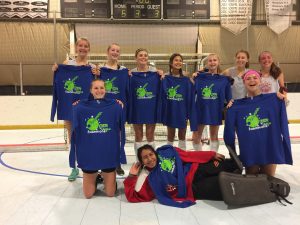 Division 1 Champions – Timberwolves A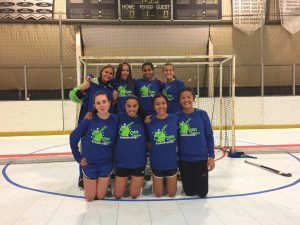 Division 2 Champions – Timberpups
Schedule:
2017 Winter League Final Schedule/Results
Game Format:
2017 Game Format
Program Description:
The RUSH Winter League is a field hockey league played on an indoor court as a modified version of indoor hockey, initially played as a wintertime substitute for progressive hockey players to continue enjoying their sport year round.  Our Winter League is divided into two groups: Division One (Varsity players) & Division Two (Junior Varsity). All games are played at the Escondido Sports Center in Kit Carson Park in the roller rink. Teams play on two full-sized enclosed rink courts that are smaller than an outdoor field, yet bigger than a basketball court. The enclosed rink keeps the ball in play and creates a fast, flowing and exciting game .
Rules:
Hitting the ball is illegal, but sweeping, flicking and 3D skills are allowed. You can score from anywhere. Four field players and GK.  No Penalty Corners. Long Corners if GK/defending team clears ball out over the boards. On free hits, the ball must travel 5 meters (pass or dribble) before a shot on goal. Three periods of 11 mins per game.
Division One – Varsity
Division Two – JV
Team registration and league details are posted.  All registrations are on a first come, first serve basis.  Deadline December 26, 2016 with payment.
Games start January 14th (Division one & Division two) through March 4th.  Please note, no games on February 4th.
Game times: 3pm-10pm (Division one) & (Division two)
Why RUSH membership is needed:
Online RUSH membership registration replaces insurance that the Escondido Sport Center requires. For better convenience, the team coach/managers are NO longer responsible to collect signed consent forms and player I.D. cards that players in the past would have to purchase ahead of time and travel to the sports center to obtain.
Roster Requirement:
The min. number of players: 9 with the max 12 players. *Gks mandatory*
Manager/Coach/Player Information:
Each team bring pinnies or alternate shirt color (light & dark)
First team listed must provide game ball
Equipment: Outdoor Stick, mouth guard and shin guards are mandatory
Court Shoes: NO black soles, cleats or turfs
Questions?:
sdinfo@rushfieldhockey.org
View our 2017 Winter League Results!
2016 Winter League Division One Champions – Winter Fhockers

2015 Winter League Division Two Champions – Wargles White

2015 Winter League Division One Champions – Short Corner

2015 Winter League Division Two Champions – Mystix

2014 NCIL Division One Champions – Vista 1a

2014 NCIL Division Two Champions – Mystix

2013 NCIL Division One Champions – S.A.S.

2013 NCIL Division Two Champions – Vista II

2012 NCIL Division One Champions – One Step Away

2012 NCIL Division Two Champions – Jaguars
Picture coming soon.
2011 NCIL Division One Champions – Pick Up Stix

2011 NCIL Division Two Champions – Short Corners

2010 NCIL Division I Champions – Past Our Prime

Mallory Albini
Alohi Ornellas
Carly Schoch
Caitlin Chamberlain
Melanie Kahn
Andrea Earle
Ally Swartz
Kyle Little
Christine Russell
Malissa Malutsby
Erica Cohen
Coach: Torrie Albini
2010 NCIL Division II Champions – Cougars

Jeanette Maldonado
Kayt Borden
Claudia Moreno
Kelly Edwards
Austyn Ukrainetz
Natalie Plummer
Natalie Romo
Anna Vivian
Laura Gilbert
Jordan Hicks
Chelsea Williams
Jennie Sherer
Lourdes Gonzalez
Helena Yanez
Estefania Tapia
Stephanie Cubbillo
Madison Ukrainetz
Binanca Bristol
Coach: Kelly Boden
---
You must be logged in as a coach to register for this event.